The best of the Magdalen Islands by plane
The Magdalen Islands are a favorite destination for Quebecers. This perfect getaway has seven inhabited islands, 300 kilometers of beach, multiple caves and cliffs, breathtaking landscapes and magnificent sunsets by the sea. One of the particularities of the Magdalen Islands will always be its inhabitants, which makes it a real favorite for visitors. The remoteness of the islands has allowed the Madelinots to develop a warm welcome, making you feel at home as soon as you greet them. Take advantage of your stay to learn about the history of the Islands and its residents. Through the various villages and attractions, the Magdalen Islands are yours to discover. You will marvel at the originality of this region with its petite and highly colored houses. All your senses will be challenged during this trip. You will smell the sea air, admire the unique natural surroundings, taste the famous lobster of the Islands, and discover its unique culture while letting your feet drag on the beach or falling asleep to the sound of the waves. The Magdalen Islands are yours to enjoy!

5 days | 4 nights | 12 meals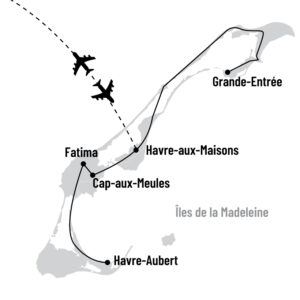 Round trip flights from Montreal to the Magdalen Islands with Air Canada
Accommodation for 4 nights
12 meals
Services of a guide
Services of a driver guide
Program activities (except optional)
Stop at La Vernière church
Stop at the port and at the Côte site at Étang-du-Nord
Stop at Belle-Anse
Visit to the Church of Fatima
Lobster roll dinner
Visit of the historic site of La Grave
Visit to the Maritime Museum
Dinner at the Domaine du Vieux Couvent
Visit of Havre aux Maisons
Guided tour of the Smokehouse of Yesteryear
Visit to the Interpretation Center for Offshore Cultures
Stop at Dune-du-Sud beach
Visit to the seal interpretation center
Stop in the villages of Grosse-Île, Old-Harry and Grande-Entrée
Visit to the parish of Bassin
Visit to the Site of Formerly
Lobster gratin dinner
Handling of one suitcase per person
Taxes and service charges
THIS PACKAGE DOES NOT INCLUDE
Personal insurance
Meals or drinks not mentioned
Tips
Optional activities or excursions
Compensation fund for customers of travel agents (FICAV)
PRICES (price per person)
*Price per person in double, triple or quadruple occupancy. Please note that prices may vary depending on the departure date selected.
N.B.: FOR TECHNICAL REASONS, THE ITINERARY, AS WELL AS THE COURSE OF EACH DAY, MAY BE MODIFIED. THE MILEAGE AND DURATION MENTIONED ARE GIVEN AS AN INDICATION ONLY.
D1: Flight to the Magdalen Islands
Flight to the Magdalen Islands. At the airport, you will be welcomed by your guide followed by an orientation tour by bus of the Cap-aux-Meules and Fatima sectors. Check-in at your hotel. The next few days will be filled with unique experiences and discoveries with the Magdalen Islanders and their musical sounding parlance. S
At the beginning of the day, discover Cap-aux-Meules, the Main Island and city of the archipelago. Guided tour and photo stops, including one at the wooden church of La Vernière, a true architectural jewel.  Stops at the port and the Côte à l'Étang-du-Nord site, a public park located near the picturesque fishing harbour of l'Étang-du-Nord. The colossal sculpture by Roger Langevin, represents the fishermen and the effort and the solidarity of the people of the region.  Stop at Belle-Anse where the red sandstone cliffs crumble due to erosion. Visit of the very original church of Fatima inspired by the modern movement. It has a great maritime symbolism with its shell-shaped exterior. In the afternoon, discover Île du Havre Aubert and its most important attraction, the historical site of La Grave. Classified as a historical site, this small pebble beach, a favorite place for fishermen, is a reminder of the time when cod was the main economic resource. Visit of the Sea Museum. PD/D/S
In the morning, guided tour of the northeastern part of the archipelago, via l'île du Havre- aux-Maisons. Many consider it to be one of the most beautiful islands of the archipelago, because it has kept its country aspect with its colorful houses. The smoothness of the relief contrasts with its red cliffs. A guided tour of the Fumoir d'Antan, an exceptional setting for the smokehouses of the Magdalen Islands, will allow you comprehend the origins of a century-old expertise. Visit the fascinating Centre d'interprétation des Cultures du Large, where you will discover the world of shellfish farming, ocean aquaculture and lobster fishing, a unique farming method in North America. Located near the Pointe-Basse wharf, discover a real high-seas fishermen's wharf.  Stop at the spectacular Dune-du-Sud beach, along the red sandstone cliffs. Visit the Seal Interpretation Centre, which focuses on the fascinating world of seals, a captivating discovery visit with historical, scientific and ecological content. Photo stops in the villages of Grosse-Île, Old Harry and Grande-Entrée (the most important lobster fishing port in the Islands). PD/D/S
In the morning, possibility of an ecotouristic excursion (optional $) to admire the beauty of the landscapes and learn all about the geology, the marine fauna and the ornithology of the Islands. Visit the parish of Bassin with a stop at the Millerand Wharf with its fishing boats, lobster cages and much more. Visit of the Site d'Autrefois, an immersion in the Magdalen and Acadian culture, their island life, fishing, agriculture, family, etc.)  PD/D/S
Day 5: Cap-aux-Meules – Return
Free time for shopping at Cap-aux-Meules.  There are several small crafts shops not far from the port.  Browse around. You might find the perfect souvenir for someone special.    Return flight. PD
Pierre-Elliott-Trudeau International Airport, Montreal, QC,

Roméo-Vachon Blvd. N, Dorval, QC H4Y 1H1

Jean-Lessage International Airport (YQB), Quebec City, QC                                                                                       
Magdalen Islands: Château Madelinot